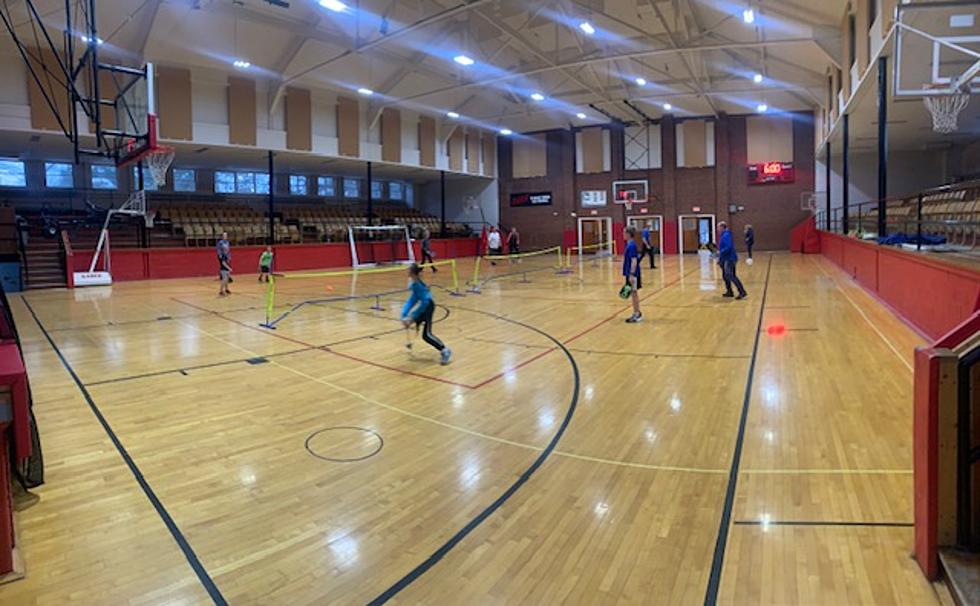 Who's Up for Pickleball? They're Serving It Up in Fort Fairfield, Maine
Fort Fairfield Parks and Recreation
Pickleball in the County
They're playing pickleball in Fort Fairfield and you're invited. Not only is the game fun, but it's a great way to get into shape and stay healthy.
Fort Fairfield Parks and Recreation
Kevin Senal is the Recreation Director at the Fort Fairfield Parks and Recreation. He said pickleball started a few years ago to bring something new to the area. "We're getting people out and experiencing something they haven't seen before or played."
"Ping Pong on Steroids"
Pickleball is a lot like "ping pong on steroids" in terms of some of the rules and style. You could even say it's a little like tennis in that you play on a full court. "We have three courts set up right inside the Community Center. A court is 44' long by 20' wide. You use a racket or a paddle to hit a ball across the net."
How to Play
The game is pretty simple and fun, and the rules are easy, "Service has to be underhand. The ball needs to hit the ground once on either side before you can volley back and forth. The game is played to 11 and you have to win by 2 points."
Paddles are Free to Use
What if you don't have a paddle? That's OK. The rec department has some for you. In fact, they just got some new ones that are free to use. "The new rackets are a lot lighter than our old ones which creates less strain on the forearm. It makes the game a lot more enjoyable."
Playing Pickleball in Fort Fairfield
Senal said just about anybody can play pickleball - and a wide range of people are coming out. "We have everyone from families with 8-year-old kids to folks from 50, 60, 70-years-old that are staying active. It's a game anybody can play with great health benefits." You need to be 10-years-old or older to participate unless with a guardian.
Schedule
Pickleball is open to the public at the Fort Fairfield Community Center through May 26. The schedule is Tuesdays from 10 am - 12 pm and again on Thursdays from 6 pm - 8 pm.
Watch the Pros Play
Watch some of the pros play the game and see how it's done. They make it look easy, and it is, but it takes practice and endurance.
Rules Video
We've included the official rules for you to check out and a video. The best way to learn is to go to the community center and get in a game or two.
LOOK: 50 images of winning moments from sports history
Sometimes images are the best way to honor the figures we've lost. When tragedy swiftly reminds us that sports are far from the most consequential thing in life, we can still look back on an athlete's winning moment that felt larger than life, remaining grateful for their sacrifice on the court and bringing joy to millions.
Read on to explore the full collection of 50 images Stacker compiled showcasing various iconic winning moments in sports history. Covering achievements from a multitude of sports, these images represent stunning personal achievements, team championships, and athletic perseverance.
Waterfront Views! Have You Seen Anything Like this Fort Fairfield Home?