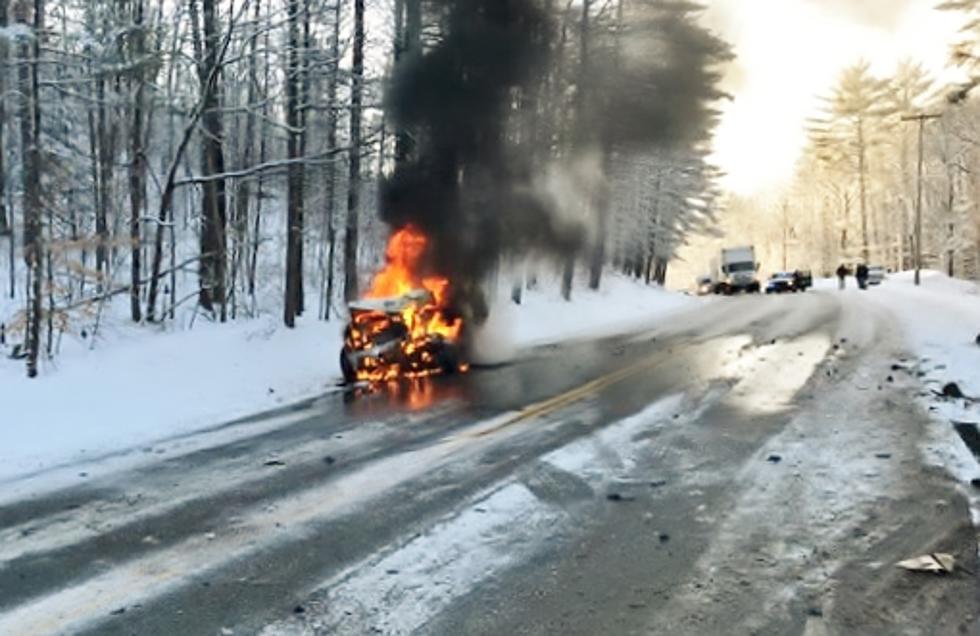 Pickup Truck Destroyed in Fire after Hitting Oil Truck in Hiram, Maine
Oxford County Sheriff's Office
Police say two drivers escaped a fiery crash involving a pickup truck and a heating oil truck early Thursday morning in Hiram, Maine.
The crash happened just after 7 a.m. on Route 113, also known as Pequawket Trail, according to the Oxford County Sheriff's Office.
Police said a teenage boy from Parsonsfield was driving a 2008 GMC pickup when it crossed the center line and hit a Downeast Energy oil truck, traveling in the opposite direction. The oil delivery truck was hauling 2,800 gallons of fuel.
The teen was not injured in the crash and was able to get out of the truck before it burst into flames, the Sheriff's Office said.
The driver of the oil truck, 59-year-old Arthur Woods of Fryeburg, sustained a leg injury, which police believe was minor.
Both drivers were checked over by rescue personnel at the scene and released. Investigators said it had been snowing and slippery road conditions were a factor in the crash.
The delivery truck went down an embankment and had to be towed. The pickup was a complete loss. The road was closed for several hours while the wreckage was cleared and a deisel spill was cleaned up.
Fire Departments from Hiram, Baldwin and Brownfield responded to the crash, along with Sacopee Rescue. Crews from the Maine Department of Transportation and Maine Department of Environmental Protection assisted at the site.
The crash remains under investigation.
13 Movies Filmed in Maine
Maine is not new to Hollywood. Many movies have been filmed in Maine since 1956.
Luxury Mountain Living Just Minutes from Sunday River Ski Resort
Tucked away in Western Maine, is this incredible mountain home. Just minutes from Sunday River Ski Resort, "Mountain Calling" is newly on the market, and a serious find for a family looking for luxury mountain living. It's also a prime home to be an income property.
The home has 6 bedrooms and 5.5 baths, a pool, hot tub, rec room, even a yoga studio, and sits on 4 beautiful acres of Newry, Maine land.