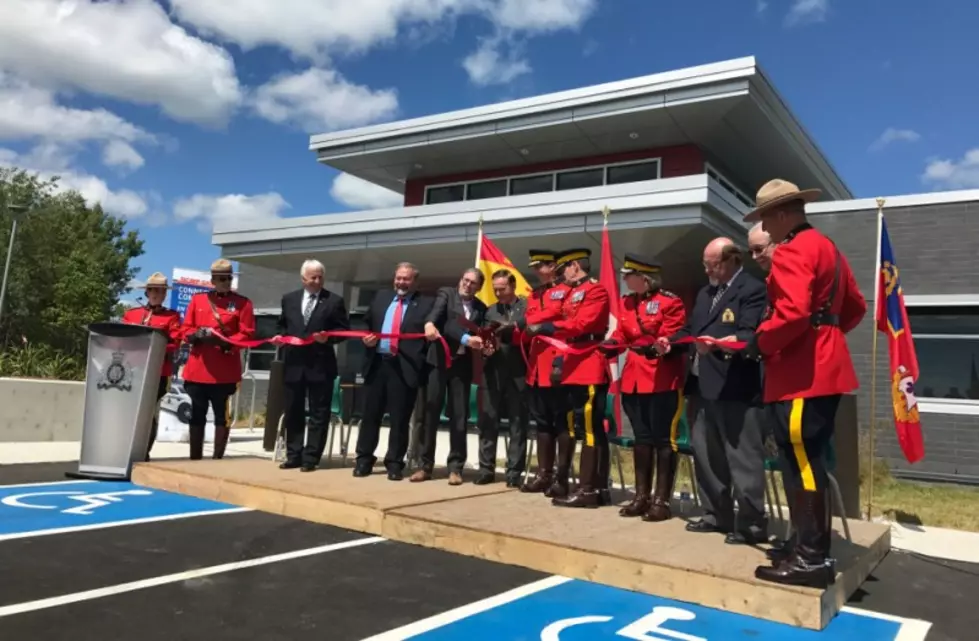 New Brunswick RCMP Officially Open Saint-Léonard Detachment [PHOTO]
RCMP
An official opening ceremony was held for the new West District RCMP, Saint-Léonard Detachment on Tuesday, August 8.
RCMP police officers in red serge attended the opening, participating in a procession from the Saint-Léonard fire hall to the new detachment building.
This is an exciting new chapter for the RCMP in New Brunswick," says A/Commr. Larry Tremblay, New Brunswick RCMP Commanding Officer, who spoke at the event. "This new facility gives our members and employees a modern and efficient building we can take pride in as we deliver our policing services to northwestern New Brunswick."
The new Saint-Léonard Detachment, located at 10 chemin Laplante in Saint-Léonard, will replace three aging facilities in Saint-Léonard, Grand Falls and Rivière-Verte. The detachment will police an area of approximately 4,000 square kilometres, including the communities of Saint-Léonard and Rivière-Verte. The detachment, its police officers and staff will serve a population of approximately 16,500 residents in Northwestern New Brunswick.
RCMP Deputy Commissioner, Federal Policing, Gilles Michaud, who is originally from Saint-Léonard, also attended the official opening.
The modernization of RCMP facilities in a central location such as Saint-Léonard is great news for the people of Northwestern New Brunswick, the local population and our RCMP employees," says Deputy Commissioner Michaud. "Enhanced service delivery to all is key for the RCMP."
The single-story building, designed by exp Architects in Fredericton, N.B., features state-of-the-art energy efficiency as well as policing facilities in line with current RCMP standards. This is the first new RCMP detachment to open in New Brunswick since 2004.
The new Saint-Léonard Detachment will house 55 full-time employees, including RCMP police officers and support staff.