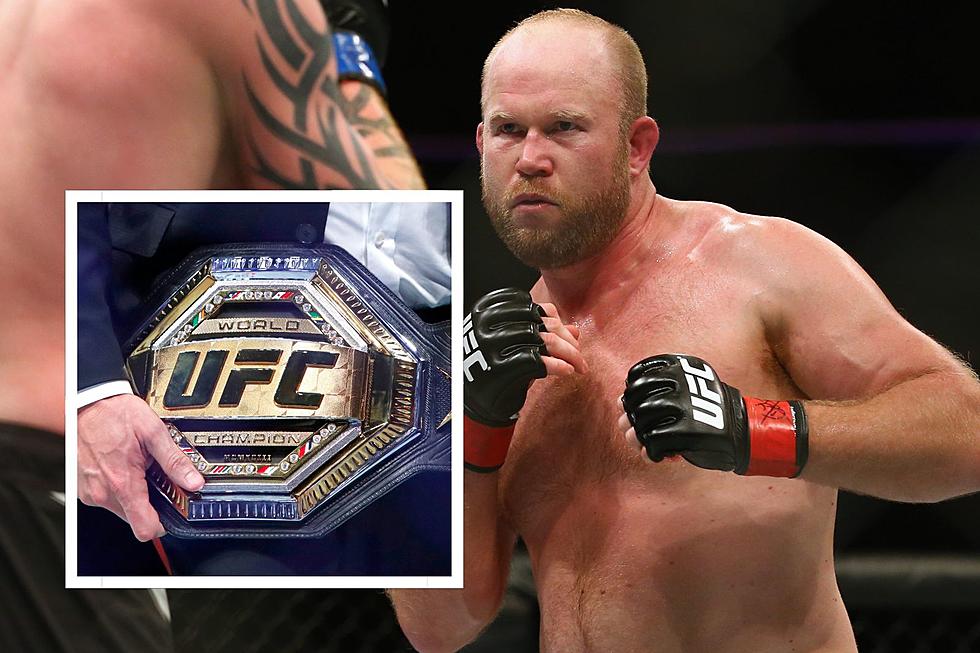 Every Mainer That's Fought in the UFC
Credit: Maddie Meyer & Steve Marcus / Getty
Believe it or not, the connection between our Pine Tree State and Mixed Martial Arts (MMA) is rooted deeply, with achievements and contributions from notable people hailing from throughout the region. 
One prominent figure is Dana White, the president of the Ultimate Fighting Championship (UFC). White, a graduate of Hermon High School, maintains strong connections to the state and deserves recognition for his pivotal contribution in propelling the sport of MMA to unprecedented levels of success. 
Additionally, these are the hometown heroes who've fearlessly stepped into the octagon, showcasing their unrivaled skills and unyielding spirit, while proudly representing our state.
Tim Sylvia
Among the fighters who call Maine their birthplace is Tim Sylvia. Born and raised in Ellsworth, Sylvia attended Ellsworth High School, graduating in 1992. Known by his moniker "The Maine-iac," Sylvia amassed an impressive record of 31 wins, 10 losses, and 1 no-contest. An incredible 22 of his victories came by way of knockout. Sylvia's achievements include holding the UFC Heavyweight Championship twice, with three successful title defenses. 
Tim Boetsch
Another fighter with roots in Maine is Tim Boetsch, who competed in the Middleweight and Light Heavyweight divisions of the UFC. Boetsch, born in Lincolnville, showcased his exceptional skills at Camden Hills Regional High School, where he excelled in wrestling. He claimed the title of state wrestling champion four times and enjoyed tremendous success at the local high school level. Boetsch accumulated an MMA record of 21 wins and 13 losses, with 13 of his victories coming by way of knockout. In recognition of his accomplishments, he was inducted into the Maine Amateur Wrestling Hall of Fame on August 4, 2012. Additionally, in 2014, the Cross Insurance Center in Bangor played host to a UFC Fight Night event, marking the first-ever UFC event in Maine. Headlined by top ten light heavyweights Ryan Bader and Ovince Saint Preux, with Boetsch also on the card.
Joe Riggs
A professional bare-knuckle boxer and former MMA fighter, Joe Riggs also has ties to Maine. Born in Sanford, Riggs was actually raised in Phoenix, Arizona, where he began boxing as a child. Riggs boasts an MMA record of 49 wins, with an astounding 37 victories by knockout, along with 18 losses. Notably, he also secured a Submission of the Night against Jason Von Flue at UFC Fight Night 6 on August 17, 2006. Riggs continues to make waves in combat sports, currently signed to the Bare Knuckle Fighting Championship.
Mike Thomas Brown
A former WEC Featherweight Champion and UFC competitor, Mike Thomas Brown adds to the list of notable fighters with ties to Maine. Brown, now the head MMA coach for American Top Team, honed his skills at Bonny Eagle High School in Standish. A standout wrestler, he secured a state championship in 1992 during his junior year. Brown amassed an impressive record of 26 wins and 9 losses, leaving an indelible mark on the sport before transitioning into a full-time MMA coach.
Marcus Davis
A professional mixed martial artist and former professional boxer, Marcus Davis represents another Maine native who made his mark in the UFC. Born in Houlton, and raised in Bangor, Davis attended Bangor High School before embarking on his journey as a professional fighter. With a record of 23 wins, 11 losses, and 1 no-contest, Davis showcased his skills not only in the UFC but also in other notable promotions such as Bellator MMA and the Cage Fury Fighting Championships. Recognized for his contributions to the sport, Davis received a Legislative Sentiment in November 2010, highlighting his success and the attention he brought to both Maine and the sport of mixed martial arts.
Jesse Forbes
Jesse Forbes was a professional competitor from 2005 to 2010. He participated in various organizations such as the UFC (Ultimate Fighting Championship), WEC (World Extreme Cagefighting), and MFC (Maximum Fighting Championship). Forbes was also a contestant on the reality show "The Ultimate Fighter 3." He was born in Portland, but later moved to Arizona. One notable fight in Forbes' career was against Ryan Jensen at UFC 114, which took place on May 29, 2010. Unfortunately, Forbes lost the match in the first round by submission via guillotine choke. This defeat added to his overall UFC record, bringing it to 0 wins and 3 losses.
Dale Hartt
Born in Bangor, Hartt gained recognition primarily through his participation in the UFC Lightweight division. Prior to his time with the UFC, he boasted an undefeated record of 5-0. His UFC debut took place on July 19, 2008, at UFC Fight Night: Silva vs. Irvin, where he faced Shannon Gugerty, and was defeated by a rear-naked choke submission. Following his fighting career, he decided to pursue further education and enrolled in university, earning a degree in finance and management from the University of Maine, graduating magna cum laude.
These fighters, hailing from different corners of Maine, have played a crucial role in putting our state on the map for their remarkable achievements. Their dedication, skills, and passion have not only inspired aspiring fighters but also brought recognition to the state of Maine itself. Their unwavering commitment to their craft has transformed them into true ambassadors of our Pine Tree State, showcasing the indomitable spirit and talent that resides within our borders.
If you want to read about every Mainer that's been selected in the NBA Draft, you can see more here.
KEEP READING: See the richest person in every state