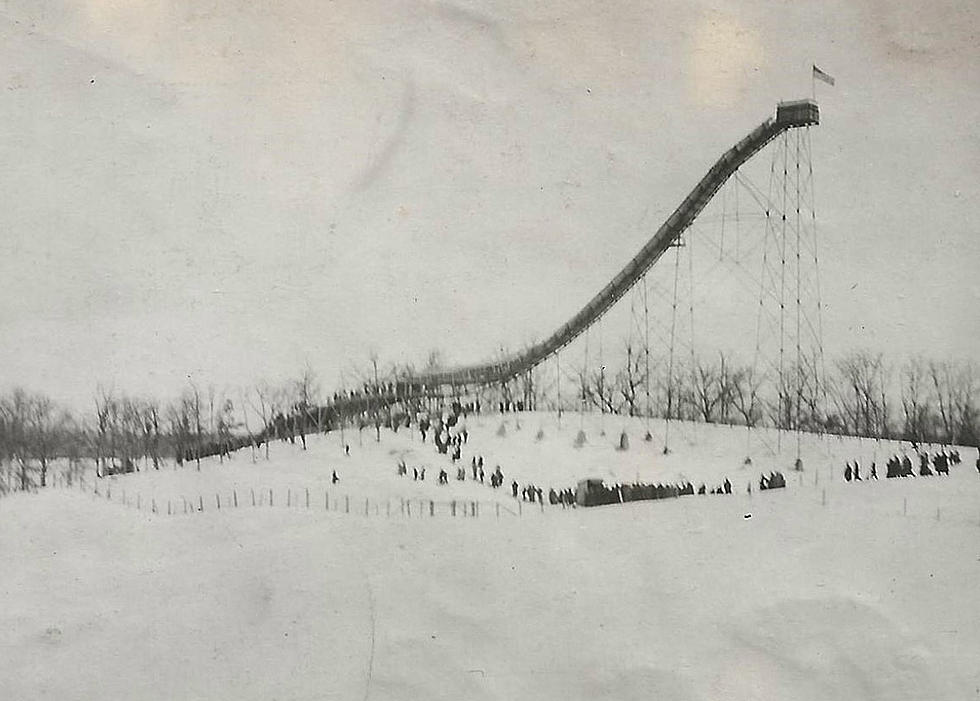 Yikes! Do You Remember The Enormous Ski Jump That Used To Be In Orono?
Courtesy Orono Historical Society
I grew up in Orono, moving there when I was in the 4th grade. My folks lived on Middle Street, behind Pat's Pizza till well after I was out of college. Growing up there, I learned a lot about the town. So I was absolutely flabbergasted when I came across a picture of this insane-looking ski jump on a friend's Facebook page, and learned that it used to stand right on Bennoch Road in Orono.
Looking at this picture, the first thing I thought was "Nope." I could never imagine having enough courage to climb something that high, let alone hurl myself down it, on purpose, on skis!
My second thought was "How did I miss this? I need to know more! This is amazing!"
So I asked around and did some digging. With the help of some very knowledgeable residents, Mary Ann Eaton from the Orono Historical Society, and some expert internet sleuths, we were able to piece together this really cool puzzle of what happened to this incredible structure.
Thanks to some digging by Orono native and former resident, Travis Longcore, the origin of what would eventually be called the "University Ski Jump" was discovered in the archives of the Bangor Daily News circa 1923. It was apparently modeled after a ski jump in Montreal.
This Ski Jump would play a huge part in wintertime campus activities for students at the University of Maine, which held a yearly Winter Carnival.
The ski jump provided the perfect backdrop for outdoor activities from the time it was built till decades later.
A quote from an interview in the Bangor Daily News article they ran in a section called "Other Community Effects" from March 8, 2006, says that "Kids would strap shaved wax barrel laths to their feet" and go down the jump.
"Residents remember it being much like snowboarding today. When the University stopped maintaining the slope, younger adults used to go there to toboggan, picnic, and have bonfires. It wasn't uncommon to find 20-30 people there."

Positioned right off of the Bennoch Rd. in Orono, the Ski Jump originally faced the Stillwater River.
According to the website, bangorlostskiareas.weebly.com:
"I was doing some research for some other lost areas in the Bangor area when I ran across this one. Apparently, there was an old ski jump site nearby the University of Maine located in Orono. The site also featured a small maintained recreational slope which offered toboggan racing and skiing serviced by a small rope tow. It was most popular for its ski jump and was a popular hangout site for the community. "
Longcore discovered in another BDN archive that in 1963, the Ski Jump was rebuilt and positioned facing the opposite direction.

Some other former Orono residents went on to share their memories of the ski jump.
"My bro used to ski this....(he was a good athlete and was the first winner of the F.T.Burpee award at Orono H.S........) we lived down the road. Climbed it in the summer several times" said one woman.
"Grew up with it-remember it well-The Snow Sculptures at all the Fraternity Houses same time of year were so special at UMaine during the '50s and early '60s," said another man.
"I remember sneaking out there as a kid and climbing on it. My grandfather was actually the coach of the UMO ski jump team."
Orono resident Walter Abbott grew up skiing in his original hometown of Rumford, before attending the University of Maine to study Agricultural Economics. He said not many people used the jump while he was in school. But he got brave one day, while he was a sophomore, back in 1956, and recalled borrowing skis from one of his fraternity brothers, Dave Morton. Abbott said Morton's family actually had a ski and snowshoe manufacturing company in South Paris, so Abbott said he knew these skis were good.
"I certainly remember the old Ski jump. I went over several times and jumped off it. The last time I jumped I landed on the flat down toward the river and broke both skis in half." Needless to say, I didn't go back, especially since the skis broke."
Abbott says when he went to return the borrowed skis to his friend, "I gave him back four skis instead of two!" Abbott joked.
Longcore says he vaguely remembers the ski jump as a kid.
"It was right across the street from our house growing up. We saw it in May 1976 when first visiting the house my parents bought on Bennoch Road just across the street and it was gone when we arrived to move in on July 4, 1976. I was six, so my memories aren't extensive, but we did roam all over that property and down to the river in summer and winter as kids. I can only imagine what the jump down that slope to the floodplain below must have been like."
According to the Maine Skiing History Page, when parts of the lift were disassembled in the 1970s, some of the lumber made its way to Sugarloaf to be used in the construction of a cabin out there.
And Longcore found another article from 1976, detailing the sale of the land the ski jump used to stand upon.
Part of me wished I had been alive and in Orono during the time of what sounds like such spectacular fun! But the mother in me is grateful none of my kids ever had the opportunity to try something that by today's standards would probably not be deemed the safest wintertime structure around.
So the next time you're driving down Bennoch Road, past the cemetery, just imagine...
I know I won't look at the place the same way, now that I know what fun used to take place there.
The Amazing Maine Sights Mainers Say People From Away Need to Visit
Mainers list the must-see areas of the state to anyone visiting from away.
Family Friendly New England Ski Resorts
What else needs to be on our list?