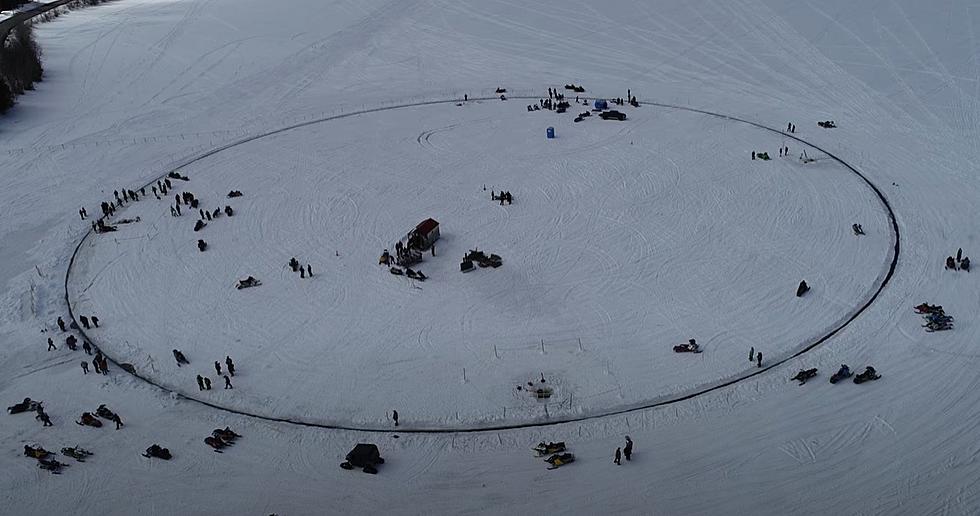 Northern Maine Attempts Another Record Ice Carousel
Spencer Caron/YouTube
The Northern Maine Ice Busters and crew are attempting to break a world record for the largest ice carousel. The massive disk is on display on Long Lake.
The record was previously set in April 2018 by the same group of self-described "working-class citizens."
Recently that record was broken when a group from Finland created the biggest ice carousel in the world.
Members of the Facebook Group - Northern Maine Ice Busters - said they want to reclaim the record and get the "trophy back where it belongs."
The video below shows the crew hard at work completing the circle for the carousel. The labor is fun, wet, arduous and cold, and they love it.
It takes an incredible amount of work, planning and experience to get such a large piece of ice to move. Take a look at the 2018 ice carousel in action:
They call it the "ditcher" and it gets the job done and than some. The aerial view is breathtaking as you watch the carousel slowly taking shape. A lot of prep work went into getting the "ditcher" to do what it does best - it's in the name.
You're invited to come out and see the majestic carousel. You also have a chance to win an auger with a plaque on it with the names of the snowmobile clubs who worked so hard to make it all happen. The proceeds go to the local clubs.
Give a shout out to the crew who put this all together and dedicated the hours to claim the record once again. Here's one more look at the record breaker from 2018:
Here Is How To Blur Your Home On Google Street View