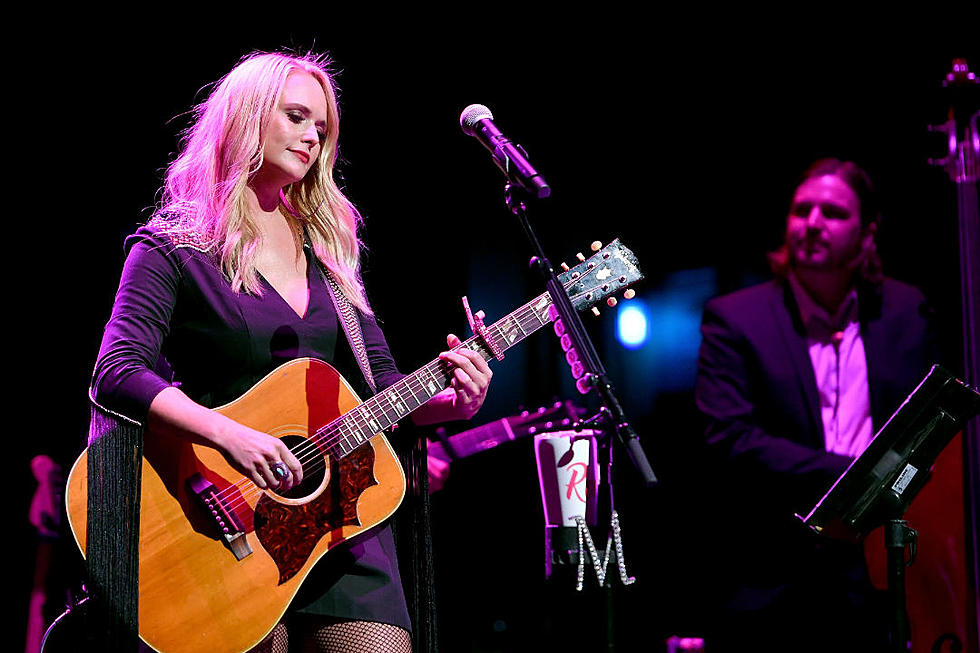 Miranda Lambert's 'Wildcard': 5 Songs That Prove She's Ready to Rock 'n' Roll
Erika Goldring / Stringer, Getty images
There's no doubt about it: With her seventh studio album, Wildcard, Miranda Lambert is ready to rock 'n' roll. The 14-track record, out Friday (Nov. 1) is full of feelin'-good tunes about love, life's messiness, love, friendship, love, tequila and ... did we mention love?
"I would call it old Miranda, but a Miranda at a whole new level, if that makes any sense," Lambert told the Chicago Sun-Times back in June. "I made a career on being a rock 'n' roller, and I think fans are going to hear that throughout. And yeah, there is this vibe of being happy that goes through this album. I am really, really happy."
Gone is the Miranda Lambert of 2016's hefty double album The Weight of These Wings. Wildcard Miranda Lambert is older, wiser and more confident in both relationships and herself. She's inspired by time spent in New York City with her new husband, Brendan McLoughlin, and, paired with a new producer, Jay Joyce, she's unstoppable.
Wildcard is Lambert's first record without longtime producer and good friend Frank Liddell. According to Lambert, she and Liddell mutually agreed to take a break from working together, and their timing couldn't have been better. Joyce's resume -- which includes sessions with Eric Church, Ashley McBryde, rock band Cage the Elephant and more -- and harder musical aesthetic made him the producer for the job. His sonic fingerprints are all over Wildcard, elevating everything from the giddy "It All Comes Out in the Wash" to the classic country tune "Tequila Does."
Not every track on Wildcard is a rocker -- but if you're hyped up for the return of that side of Lambert, read on for the tracks you should check out first.
Producer Joyce pulls out plenty of his old tricks right from the get-go. "White Trash" sets the tone for Wildcard well in so many ways, from its industrial sort of melody to Lambert's first-verse assertion, "I can play high class all day, but some things never change." There's an irresistible combination of bass, finger snaps and jangly chimes that make this one an earworm well before Lambert's echos of "I'm finally on the up and up" send listeners into the album's next track.

"Mess With My Head" is a straight-up pop-rock track about falling in love, written and performed as only someone who's giddily smitten can. Its loud drums and trippy, swirling melody create a sonic picture of the good kind of mental messiness about which Lambert sings. The bridge in particular would make Keith Urban proud.

A gospel choir and bluesy acoustic guitar back Lambert as she sings her soul out on "Holy Water." The song is a swampy reflection on the corruption of religion, politics and 21st century society in general: "Holy water gonna make us drown," Lambert laments -- but there's hope because, she adds, "I believe in music / Personal communion can lead you right to the light."

"Way Too Pretty for Prison"

Consider this one the buddy-comedy sequel to Brandy Clark's stellar single "Stripes." Inspired by Little Big Town member Karen Fairchild and featuring Maren Morris, the grungy "Way Too Pretty for Prison" finds Lambert and Morris talking themselves out of seeking deadly revenge on a no-good ex because, well, prison just ain't up to their standards. In pitch-perfect harmony, the pair reason that Thelma and Louise would surely be on their side, but "it don't sound fun for 15 girls to have to share one sink."

"Locomotive" was the song that started it all. Lambert debuted the track in June, during CMA Fest, calling it "total country punk-rock" and hinting that fans could expect more of that sound on her then-unannounced next album. The fiery tune is a bold declaration of a DGAF attitude, adopted thanks to a relationship with someone who "gives [you] wings" and will love you "just the same" despite a checkered past (and that one time you ... totaled his truck?!). The ready-for-headbanging intro, "Sympathy for the Devil"-esque "woo, woo, woo"s and blues harmonica complete the 3-minute jam.