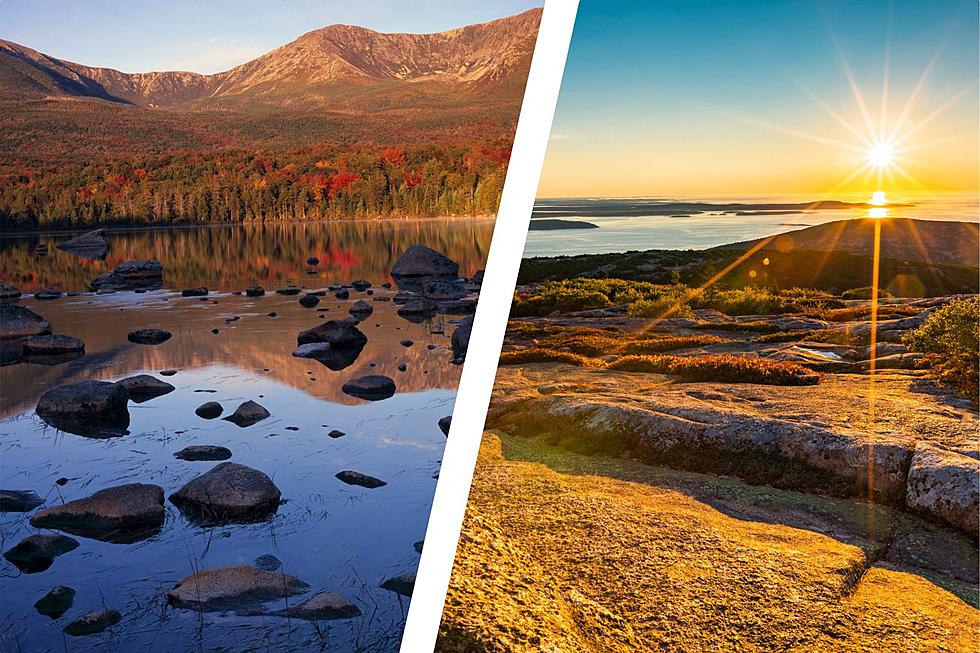 Maine's Two Most Iconic Parks Named Best Places to Camp in the Northeast
Getty Imeags
When looking for places to enjoy the outdoors, it should be no surprise Maine will come up in many searches. This also includes any "best-of" articles that pop up on the internet.
A recent post from the popular travel site Trips to Discover did just that. The site posted an article about the best places in the Northeast to camp. Among the 10 listed were two of the most popular spots in Maine, Acadia National Park and Baxter State Park. Both spots are certified A+ Maine destinations.
What can be said about Acadia that hasn't already? The picturesque national park is loaded with beautiful views, amazing trails, pristine ponds, and extremely in-demand campgrounds.
Acadia is often called one of the most beautiful national parks in all of America, aided by Cadillac Mountain's perfect setting for sunrise.
Here's are some of the spots Trips to Discover tells you to hit.
If you're looking to be closer to the largest town in the area, Bar Harbor, then stay at Blackwoods...If you're looking for more peace and quiet, consider pitching a tent at Seawall. Backcountry camping is only allowed in certain areas of the park...
Next up is the home to Mount Katahdin and the northernmost point of the legendary Appalachian trail, Baxter State Park. The large swath of land is some of the prettiest and most remote in Maine. Sure, Katahdin can get a little congested, but that's just a portion of the nearly 210,000 acres of pure Maine.
Baxter has all kinds of unique campgrounds. Some can be found on ponds and near trailheads. Others take a few hours to hike to, and of course, there's plenty of backcountry.
Here is the breakdown from Trips to Discover.
There are nearly a dozen campgrounds here, including backcountry sites...Choose from cabins, bunkhouses, lean-to or tent sites, and be sure to leave no trace as this is a natural wilderness area.
Baxter does have the tendency to be overlooked by tourists, and that is fine by Mainers. The quiet and peaceful park is the perfect spot to unwind and enjoy nature.
It's wonderful to see Maine's heavy hitters represented on this list. Both parks deserve a mention on any camping list here in the Northeast and beyond.
As someone who has camped in or near both, I fully endorse a trip. You will not be disappointed.
Happy camping.
The 20 Most Visted Maine State Parks in 2022
Gallery Credit: Chris Sedenka
Look: 30 Popular Maine Mountain Hikes
Maine is a tremendous hiking state. Here are (nearly) 30 of Mainers' favorite mountain hikes. Some are well-known, while others are hidden gems.