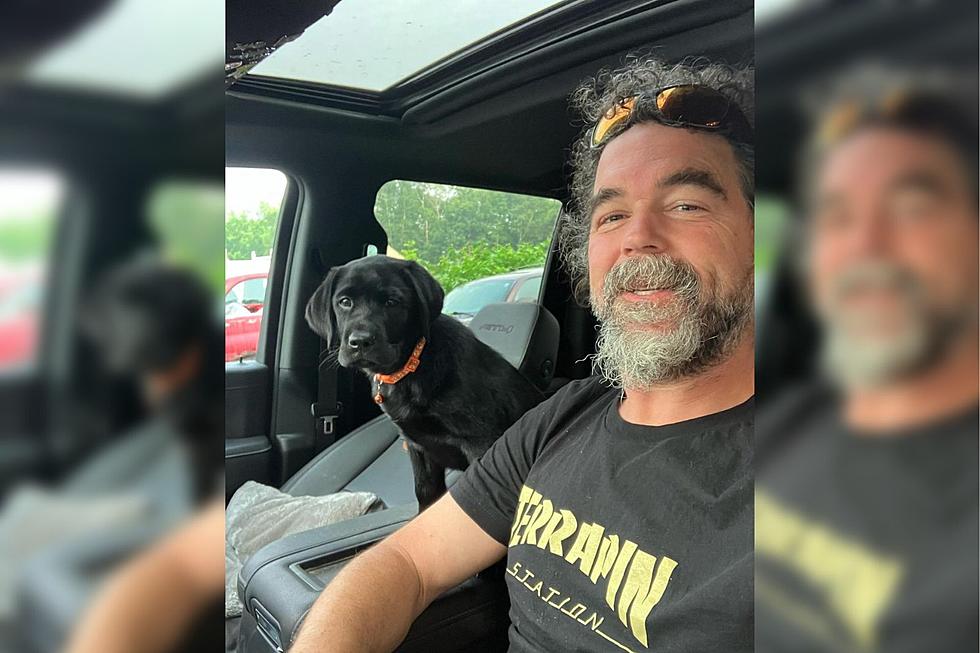 The 'Maine Cabin Masters' Got an Adorable New Puppy Named Trigger
Maine Cabin Masters via Facebook
The crazy popular Maine Cabin Masters have added a new crew member, and he is quickly taking over the spotlight. I'd like to introduce you to Trigger.
Just look at that face. And I don't mean Ryan's (though, that's a great shirt, Ryan).
Trigger is brand new to the Maine Cabin Masters family. He is not just a member of the team, but also gets to live with the dog whisperers themselves, Ryan and Ashley. If you are familiar with the show, you already know how much the two adore dogs, so I can't imagine how pampered Trigger will be at home. Plus, imagine being a puppy who gets to basically spend his day on the work site "helping" out the crew.
According to Triggers brand new TikTok (of course, the dog has a TikTok), his name has a very cool connection to the music business. He was named in honor of inarguably the most famous acoustic guitar in the world, Willie Nelson's 1969 Martin N-20.
Trigger is a black lab, which means he won't be that sweet and little size for too long. Labs typically grow to be between 55 and 80 pounds. My guess is that Trigger is going to be a chonk, considering the size of those paws already.
I look forward to seeing Trigger in his new role on television. And don't forget to follow along with all of his (and probably Ryan's) hijinks on TikTok.
Also, check out the Maine Cabin Masters website for more information about the show and their other projects.
Try These 50 Maine Restaurants with the Best Outdoor Seating
Thanks to our great listeners we were able to compile a list of many of Maine's restaurants with the best outdoor dining.
These great spots can be found across the state and waiting for you to give them a try.
How many have you been to? How many would you like to try for the first time?
Gallery Credit: Chris Sedenka