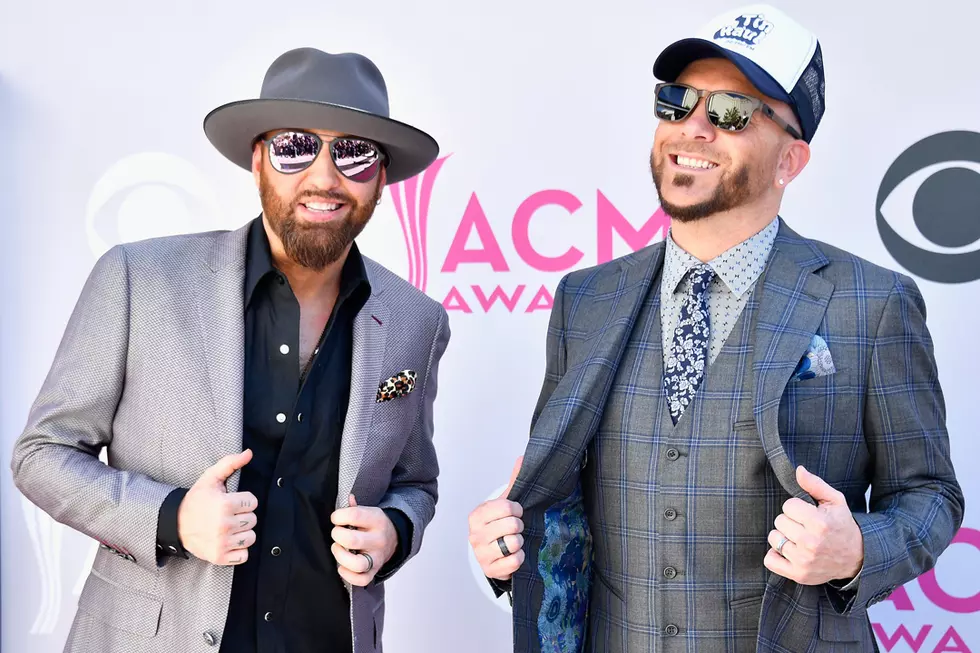 LoCash's CMA Fashion Game Is Surprisingly Strong
Frazer Harrison, Getty Images
Don't sleep on LoCash's Preston Brust and Chris Lucas on the CMA red carpet this year. The Vocal Duo of the Year nominees are probably as excited about the 2017 CMAs as any nominee, and they're not planning to walk down the carpet quietly.
Lucas says that for him, it's all about the shoe game. "I'm gonna have a special edition Nike that there's only 10,000 made," he tells Taste of Country exclusively. That's consistent with what he had on his feet at the 2017 ACM Awards, plus a few other red carpets.
Brust says he's still agonizing over what to wear. "I just saw this jacket, I showed Chris the other day," he shares. "I just can't pull the trigger on it because it's expensive. But I kinda wanted to."
"You gotta pull the trigger on it man, if we lose we go out in style!" Lucas retorts.
"It's a little crazy, I'm not gonna lie. It's a little crazy and I really want it."
See the Evolution of LoCash's Fashion Game
This is the very first CMA Awards nomination for LoCash, and they may be the only ones not lying when they say they're just happy to be included. Five-plus years of working hard with little payoff preceded "I Love This Life," their breakout single. "Ring on Every Finger" is the third hit song from Fighter, and they say the next single will be from a new album. It's a lot of pressure, Brust admits, but they're wise enough to soak in big wins, like a CMA nomination and an opening slot on Tim McGraw and Faith Hill's Soul2Soul Tour.
Yep, that was a first, too. Last weekend LoCash played an arena for the first time, telling Taste of Country that it was full for them because McGraw and Hill took extra steps to make sure of it. A vibe room with radio was cleared out before they took the stage. "And then you run into Tim backstage and he's like, 'Man I really liked that slow song right before 'I Love This Life,' and you're like, 'He watched the show!' Like this is crazy," Lucas spills. Something similar happened with the Chainsmokers earlier this year.
There is simply no sense of entitlement when it comes this duo of friends, singers and fathers, so big purchases still sting no matter how wild and crazy they are. As for that jacket? Brust says he's probably the only one in the world that would consider it for the CMA Awards.
"It's that fine line," he says when asked if it's more likely to end up on a Best Dressed or Worst Dressed list. "It's that fine line, but hey, as long as I'm on a list, you know what I mean?"
Best CMA Moment Ever? Relive These Unforgettable Moments