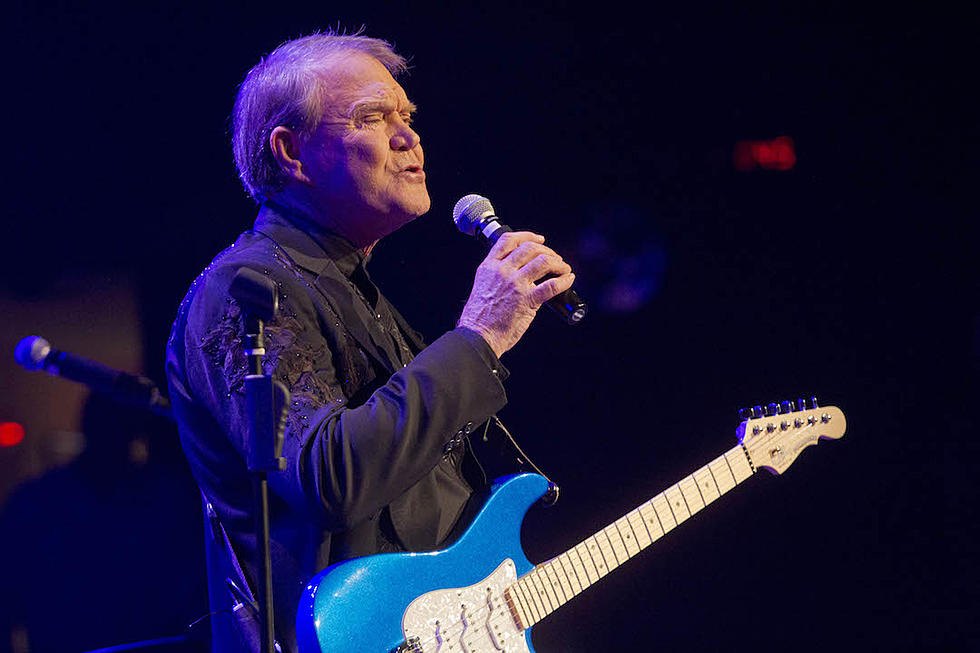 Glen Campbell Museum, Performance Venue Coming to Downtown Nashville
Ed Rode, Getty Images
Two years to the day after Glen Campbell's death on Aug. 8, 2017, comes the news that the music icon is being honored with a new museum and performance venue in Music City. The Glen Campbell Museum and Rhinestone Stage is slated to open in early 2020.
Located at the corner of 2nd Avenue and Lower Broadway in downtown Nashville, the Glen Campbell Museum and Rhinestone Stage will be a 4,000-square-foot museum that will become a live music venue at night, according to Nash Country Daily. The museum will house personal artifacts -- guitars and other instruments, stage clothing, family photos and more -- that will tell the story of Campbell's life and career. The Rhinestone Stage, meanwhile, will aim to give both local and national acts another spot to perform in the area.
"I am thrilled that Glen's musical legacy will be preserved and celebrated in such a beautiful and enduring way. The museum is sure to inspire countless musicians and music lovers while continuing to entertain his lifelong fans and share his amazing gifts with generations to come," says Campbell's widow, Kim. "It's with a big heart and sincere gratitude that we share Glen's memories and cherished personal possessions with his fans and the world."
Campbell is considered an icon in multiple musical genres, thanks to his solo pop and country hits -- the Rhinestone Stage's name is a nod to one of his most famous singles, "Rhinestone Cowboy" -- as well as his work as part of the Wrecking Crew, a sought-after group of Los Angeles session musicians. Through his studio work and time as a touring musician, Campbell played on albums by and performed live with the Byrds, the Beach Boys and many more.
Campbell also found success as a television variety show host and film actor before being diagnosed with Alzheimer's disease. Campbell's final tour and final album came following the diagnosis; an award-winning documentary, Glen Campbell: I'll Be Me, chronicles some of the trek and his life with the disease. The musician lived with Alzheimer's for several years, his condition worsening over time, before he died at the age of 81.
Campbell's Nashville museum will put him among the likes of Johnny Cash, Patsy Cline and George Jones. All three legendary artists have their own museums in downtown Music City, blocks away from the Country Music Hall of Fame and Museum.
LOOK: Glen Campbell Through the Years