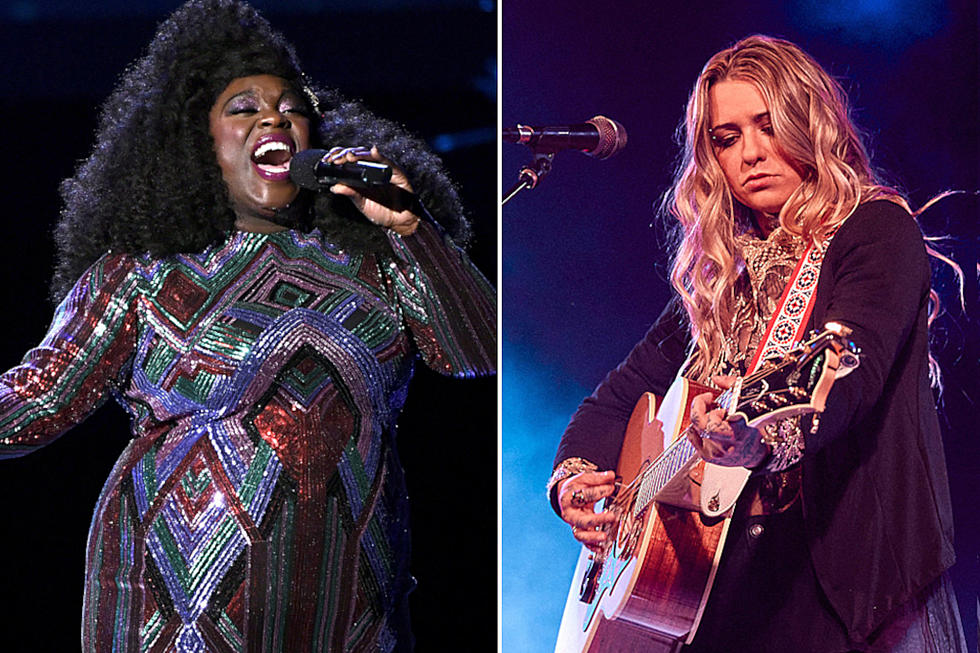 The 50 Best Albums and EPs of 2021 from Country, Americana and Beyond
Getty Images
It's been a year of transition for many artists as plans delayed by the initial COVID-19 outbreak finally came together. As a result, music fans were treated to a wave of incredible releases by artists both established and new. There was something for every type of country music fan this year, with releases that mixed pop and R&B, paid homage to more traditionalist sounds and even the now-classic hits from the 90s.
Our list, which features 50 records and EPs from mainstream country, Americana, folk, alt-country, indie-folk and beyond, show the incredible diversity and artistry that help make these genres what they are today. From a sweet, personal collection from Willie Nelson and his family members to Miko Marks' powerful return, Wanda Jackson's farewell and  Allison Russell's moving, intimate solo debut, there was a lot to be thankful for in 2021.
Read on to discover The Boot's Top 50 albums and EPs of 2021, then let us know your favorite albums of the year in the comments.
Amythyst Kiah, 'Wary + Strange'

Many listeners first became acquainted with Amythyst Kiah as a member of supergroup quartet Our Native Daughters, together with her band mates Rhiannon Giddens, Leyla McCalla and Allison Russell. Their early 2019 album, Songs of Our Native Daughters, navigated what it means to be an American Black women throughout history, set to a collection of string-based folk songs. On Kiah's 2021 breakout solo debut, Wary + Strange, she expands upon that rich, rootsy artistic identity, combining her folk background with her love of '90s alt-rock and showcasing her muscular, versatile voice.

Nowhere is the distinction between Kiah as band mate and Kiah as a solo artist clearer than in "Black Myself," a track that appears on both Songs and Wary + Strange. On the former, it's a string-filled, old-time ballad; on the latter, it's an expansive and modern-minded anthem that puts the spotlight on Kiah's effortlessly defiant voice. That voice takes other forms over the course of the project: Melancholy and plaintive in "Firewater," or tenderly grief-addled in "Wild Turkey." Her work with Our Native Daughters proved Kiah's skill at examining historical, collective trauma: In her solo work, she turns that same eye to her personal history, with even more complex, nuanced results. -- Carena Liptak

Emily Scott Robinson, 'American Siren'

On American Siren, Emily Scott Robinson's debut album Oh Boy Records, she paints a picture of small towns and big dreams. Robinson uses her storytelling prowess to take what could be thought of as personal or individual tales and make them relatable. She pulls from personal narratives on songs like "Cheap Seats" and "Hometown Hero," which she revealed was written about a cousin of hers, and constructs lyrics and atmosphere that evoke feelings as much as tells stories. Robinson shows her ability to balance big feelings with humor on "Things You Learn The Hard Way" where she warns against everything from taking time to appreciate your family to not leaving your wedding ring on the edge of the kitchen sink. -- Holly G

On the aptly named Stand For Myself, English singer-songwriter Yola does just that. The album is a stake of ownership and belonging in a genre that has for a very long time felt like a closed box. Yola kicks the gate open and leaves no room to question that her take on roots music is one that is not only welcome, but needed. Not shying away from R&B and disco influences, Yola offers all of herself in a display of undeniable talent. The album not only takes charge sonically, but delivers lyrics that do so as well. On "Starlight," Yola explores being a woman standing in her sexuality without hesitation, and on "Whatever You Want" she talks about confidently walking away and not looking back. -- Holly G

Jack Ingram, Miranda Lambert and Jon Randall, 'The Marfa Tapes'

When it arrived in early May,

The Marfa Tapes

— consisting of 15 songs written and recorded by

Jack Ingram

,

Miranda Lambert

 and

Jon Randall

on a ranch outside Marfa, Texas — felt historic. Here were three of country music's best songwriters, at the height of their powers, retreating to the Texas desert and returning with a set of uniformly excellent lo-fi recordings. The album is most impressive at its most devastating, as on the somber "The Wind's Just Gonna Blow" and merciless "Ghost," but even the lighter numbers feel momentous. 

-- Will Groff

Five cruel years since the death of wife and

Joey + Rory

partner

Joey Feek

, one of country music's most beloved storytellers Rory Feek gave the world 

Gentle Man

, his first solo album of his career but, we pray, not his last. Interwoven amongst the 14 tracks is a pureness and an honesty seldom seen in music today and an honesty that we believe the world needs a whole lot more of.

Created within a makeshift studio on that precious piece of farmland in Tennessee that the Grammy Award winning singer-songwriter and New York Times bestselling author now shares with the couple's almost 8-year-old daughter, Indiana, Gentle Man serves as a music lover's paradise.

"One Angel" is a heartbreaker penned by family friend Sandy Emory Lawrence that beautifully pairs with a comforting melody delivered by Feek alongside the legendary

Dolly Parton

. "Me and the Blues" is a

heartfelt ode to the reality of hard times, in which Feek joins vocal forces with

Vince Gill

. And while artists such as

Trisha Yearwood

,

Alison Krauss

 and

Lee Ann Womack

 also lend their vocal talents to the songs that make

up one of 2021's greatest album, perhaps it's the title track "Gentle Man" that gives us the best glimpse of the man Rory Feek now is. I certainly believe the song would have been Joey's favorite.

-- Tricia Despres

Sierra Ferrell, 'Long Time Coming'

Long Time Coming

, West Virginia-native

Sierra Ferrell

's startling debut, feels intentionally disorienting. Mariachi horns, Klezmer cadences, and bluesy vocal stylings are but a few of the elements that make

Long Time Coming

one of the strangest, most captivating country LPs in recent memory. The album's eclectic feel is testament both to Ferrell's dramatic backstory — she spent her formative years traveling the country with a group of itinerant musicians, hopping freight trains and busking for tips — and her comfort shifting between genres and emotional registers. 

-- Will Groff

Allison Russell, 'Outside Child'

Outside Child

is a celebration of triumph, a victory cry, and a masterful exhibit of vulnerability laid bare. The Grammy-nominated album is

Allison Russell

's solo debut, released on Fantasy Records. There is magic in every moment of the album, giving listeners the feeling that history is being made. It is hard to imagine that while singing of a childhood that saw her as a survivor of assault, one can charm listeners - but that's exactly what Russell does. She doesn't hide from the darker sides of her past, offering imagery like "the shadow in the door frame" on the break-out track "Nightflyer" and detailing having to flee to the comfort of her first love in "Persephone." In addition sharing tales of her darkest moments, Russell also delivers hope and celebration with tracks like "4th Day Prayer" and "Joyful Mothef*ckers."

-- Holly G

Brandi Carlile, 'In These Silent Days'

Low Country Sound/Elektra Records

Low Country Sound/Elektra Records

Brandi Carlile struggles to reconcile the warring sides of herself on In These Silent Days her excellent seventh album. Written with longtime collaborators Tim and Phil Hanseroth and produced by Dave Cobb and Shooter Jennings — the team behind Carlile's 2018 breakthrough, By the Way, I Forgive You — In These Silent Days isn't a quiet album so much as a conflicted one. The epic arrangement and big vocal moments on lead single "Right on Time" belie the guilt and self-doubt at the song's core. Likewise, "When You're Wrong" and "Throwing Good After Bad" blur the lines between romantic love and self-destruction. But it's "You and Me on the Rock," an ecstatic love song and faithful tribute to Blue-era Joni Mitchell, that may prove to be the most enduring. -- Will Groff

Robert Plant & Alison Krauss, 'Raise The Roof'

When Plant and Krauss come together, it is a praise-prayer to the piece of our human nature that makes us musical beings. We already knew this to be true when they released their first collaboration, Raising Sand, 14 years ago. Now, Raise the Roof affirms this and then affirms it some more, from the hypnotic "Searching For My Love" to the blazing clarity of "High and Lonesome." Produced by T. Bone Burnett and composed mostly of cover songs, the tracks on the album take on an ethereal quality - as if Plant and Krauss have traveled beyond this realm and to another and have come back to tell us the tale. -- Natalli Amato

Charley Crockett, 'Music City USA'

Son of Davy / Thirty Tigers

Son of Davy / Thirty Tigers

Though named Americana Association's Emerging Act of the Year, Charley Crockett made waves with his 10th album release, Music City USA. The stylish singer with the old time sound did not disappoint, delivering 50 minutes of music that transports listeners to another time. Crockett delivers catchy upbeat melodies on songs like "Round This World" and the titular track "Music City USA," and also treats listeners to softer ballads like "Need Your Love" which sounds to be straight out of the 1950s. Crockett delivers moodiness and poignant emotion on songs like "This Foolish Game."

The 16-track album is a masterful display of Crockett's unique sound and incredible vocal ability, which seamlessly blends together countless sonic influences including country, blues, and R&B; a sound which many have described as "countrypolitan." -- Holly G

Carly Pearce, '29: Written in Stone'

Tragedy and comedy intertwine on 29: Written in Stone, Carly Pearce's clever and affecting third LP. Originally released as a seven-song EP, the full-length digs even deeper into themes of betrayal and renewal. The wordplay-driven "Diamondback" and "Easy Going" approach heartbreak at a slant, while "29" and "Should've Known Better" are devastatingly straightforward. "Now I know why you sang that way," Pearce admits on "Dear Miss Loretta," a stellar duet with fellow Kentucky-native Patty Loveless that's one of many high points. -- Will Groff

Queen Esther, 'Gild The Black Lily'

On Queen Esther's fourth studio album, Gild The Black Lily, listeners are gifted history, provocation, and revolution as Esther explores roots music through the lens of a Black woman. Though released in a time where many albums were, Esther asserted that Gild The Black Lily is not a pandemic project, but something she'd been working on for quite a while.

On stripped down covers like "John The Revelator," Esther reminds listeners that the voice too is an instrument in the rhythmic call and response tune. Esther offers her take on "Take It To The Limit" by The Eagles, and on "He Thinks I Still Care" we get her version of "She Thinks I Still Care," made popular by George Jones.

Esther weaves together her ability to tell stories, write music, and impart history lessons on songs like "Oleander," an ode to a poisonous plant where she tells the story of a woman using its toxic properties to free herself from a toxic situation.

We see Esther's versatility through two different but equally enthralling versions of "The Whiskey Wouldn't Let Me Pray." -- Holly G

True to its name,

Lilly Hiatt

's atmospheric offering

Lately

dwells in the currency of moments and the feelings attached to them. Whether she's reflecting on the beauty of spending time with family on "Simple," feeling restless on "Been," or unpacking the complicated emotions of a breakup on the title track, the album's contemplative center guides it, allowing fluid exploration of its many moods.

Hiatt explores sonically too on the album, ranging from airy keys on "Lately" to a darker, fuzzier sound in "Gem" that almost evokes the distortion-and-soprano combinations of shoegaze rock. As she told

The Boot

in October, the album was put together "

in layers

" -- first, she built off of the original demos of each song with drums and bass, then keys, and then pedal steel. The result is a latticed, subtle production that reflects the anxieties of the current moment without losing its timeless quality.

-- Annie Parnell

In early 2021, at the Grammy Awards, Billy Strings won Best Bluegrass Album for his breakout 2019 project, Home. Backstage in the press room, he reflected on the peculiar fact that his album had predicted some aspects of the COVID-19 pandemic -- after all, during the shutdowns, many were stuck at "Home" -- and said that he hoped his next album would be titled Renewal in a statement of hope and return to some semblance of normalcy.

Whether or not 2021 brought more normalcy to daily life is up for debate, but Strings delivered on his highly-anticipated next album, which pulled off the difficult task of living up to its wildly successful predecessor. Strings continued to push genre boundaries -- something he was already known for -- braiding his bluegrass styles with more unorthodox studio instruments, like synthesizers. He also kept his love for live performance mostly intact, setting his music in what has always been its natural habitat -- the stage -- with a headlining tour for much of the latter half of the year. -- Carena Liptak

Sam Outlaw, 'Popular Mechanics'

Popular Mechanics is a sonic masterpiece filled with a series of energetic lyrics from the soul of a country music visionary, packaged within 11 tracks filled with steel guitars and synthesizers that take listeners on a retro ride through the creative brain of Sam Outlaw. With a new wave feel that puts one back in the clouds of a past reality, Popular Mechanics feels good within a soul craving familiarity.

"Here on a Mission" is a sonic spaceship of a ride penned exclusively by Outlaw, while "Half a World Away" serves as a romantic rollercoaster of sorts that will leave one swooning. "Daydreaming" allows us to merge onto a highway far from the crap of reality. But perhaps the shining light of the album is "For the Rest of Our Lives," a brilliant while low-key reminder penned by Outlaw and
songwriter Steven Fiore that reminds us that each life is a love story in which failure, forgiveness and redemption always plays a part…and that's ok.

"Each one of us can decide to linger in the pain of the past, or process it, learn from it, and step out into the new day," Outlaw once said. And we couldn't have said it any better. -- Tricia Despres

Adia Victoria, 'A Southern Gothic'

Adia Victoria's A Southern Gothic is a haunting of the genre, bringing to life the perspective of Black southerners that has too long been silenced. Victoria's voice has a gravitational pull that floats lightly over the music. Beholden to no single sound, the 10-track album is a trek through folk, rock and rhythm and blues.

A Southern Gothic is Victoria's third studio album and sees her continue a pattern of using her art to create a sense of reflection around her sordid relationship with the American south. Like many of the albums that saw their release in 2020, A Southern Gothic was born of the pandemic. Victoria's time spent alone saw her learning to play instruments, writing, and producing the album all on her own. Once complete, Victoria did enlist the help of T Bone Burnett as executive producer and called in Jason Isbell, Margo Price, Kyshona Armstrong, Stone Jack Jones, and Matt Berninger to feature on the album. -- Holly G

Dillon Carmichael, 'Son of A'

Dillon Carmichael continued his commitment to traditional country on his own terms with Son of A, his star-packed 2021 release. The Cadillac Three lend their voices to one track, Jon Pardi co-produced much of the album and big names like Ray Fulcher, Rhett Akins and Hardy dot the songwriters' credits list. It's major step toward mainstream country from Carmichael's 2018 debut, Hell on an Angel, but an immensely logical one for the singer, who comes from country royalty: He's the nephew of Montgomery Gentry's Eddie Montgomery. But no matter how many big names appear on his project, Carmichael's artistic voice, sense of humor and sweetness remain the most prevalent theme on the album, thanks in part to his deep, distinctive baritone and easygoing comfort in the writer's room.  -- Carena Liptak

Miko Marks, 'Race Records'

After 13 years away from the business, Miko Marks returned to the scene with a bang, releasing both Our Country and Race Records in 2021. The latter, released in October, not only secured Marks' spot as a powerful voice in the changing landscape of country music, but established her as a thought leader and innovator.

Race Records is both a sonic treat and a history lesson. Marks delivers country classics through a new perspective to highlight the history of the division created in country music by racism as the early music charts were split along color lines. Race Records opens up a conversation about challenging the confines of genre and serves as a reminder that the origins of what we know today as country music come from a rich history of Black pioneers.

Marks and her band, The Resurrectors, take on six classics including The Carter Family's "Foggy Mountain Top," Creedence Clearwater's "Long As I Can See The Light," and Willie Nelson's version of "Whiskey River." -- Holly G

Joshua Ray Walker, 'See You Next Time'

On See You Next Time, Joshua Ray Walker completes what he revealed this year was a trilogy of records, closing out stories he's been weaving together for over a decade as well as the tab on his fictional bar where the entire trilogy takes place. Walker proved his ability to churn out playful party anthems with "Sexy After Dark," helping listeners tap into their confident alter egos. The album also gives listeners more somber songwriting, as Walker gave us previously with the hit "Voices", with songs like "Flash Paper" dedicated to his late father.

Influenced by country music icons like George Strait and The Chicks, See You Next Time sports a timeless sound, an intentional move by Walker. Though playful at times, the album is an exploration of empathy. Walker uses See You Next Time as an opportunity to tell the stories of the forgotten. He gives voice to narratives that often go unsung on songs like "Dumpster Diving" where he tells a story of two dumpster divers falling in love. -- Holly G

Valerie June, 'The Moon and Stars: Prescriptions for Dreamers'

Valerie June's self described "organic moonshine music" shines bright on her latest album The Moon and Stars: Prescriptions For Dreamers. June constructs a world all her own with ethereal lyrics and unexpected sound. June's classic folk vocal combined with the futuristic sound used on tracks like "Within You" takes her traditional sound to a new level.

For the breakout hit from the album, "Call Me A Fool," June enlists Memphis royalty, Queen of Memphis Soul Carla Thomas for vocal assistance. "Call Me A Fool" feels like a lazy, perfect Sunday morning. The song comes in waves and showcases the strength of June's vocal ability and her ability to defy genre, despite having a voice that sounds like an instrument from days long gone. -- Holly G

Adeem the Artist, 'Cast Iron Pansexual'

Formally, Adeem the Artist called Cast Iron Pansexual their debut, but they have been independently releasing music on Bandcamp for years. The Knoxville-based artist's style feels like Todd Snider's; it's sharp-witted folk. And while the subject matter is clearly about sexual and gender identity, it's more about the willingness to evolve. It's about the ability to learn new things with age and concede that the things you believed when you were younger may not have been correct. That's woven into the fabric of the album with the first track, "I Never Came Out."

"I didn't have language for the way I felt / Been taught since I was born to other everybody else / And if I was one of me I could not be one of them / Rainbow loving boys that chose to live in sin / I'm not saying this because I'm proud / I never came out."

They also pay tribute to the music they were raised on–90s country. In "I Wish You Would have Been a Cowboy," Adeem reckons with Toby Keith's early work as an artist and how that feels to them more than 25 years later as Keith's nationalism made enjoying that art more difficult. -- Blake Ells

Chapel Hart, 'The Girls are Back in Town'

Chapel Hart's The Girls are Back in Town sounds like the vengeance twang of old. Songs like The Chicks' "Sin Wagon," Miranda Lambert's "Kerosene" and Gretchen Wilson's "Redneck Woman" feel like they could have shown up anywhere on their sophomore release. Once they received a stamp of approval from Billy Gibbons of ZZ Top, their ascent truly began, despite most of their work being released just before and during the pandemic. The New Orleans-based trio was determined to work through it, with their first big moment coming when Gibbons joined them for their "Jesus & Alcohol" [a track included on The Girls are Back in Town] music video.

Their live shows are filled with energy, and they'll be opening some dates for "Uncle Billy" – their affectionate name for Gibbons – soon, as touring plans commence for a post-pandemic world. They're also in talks for several opening dates with other major acts. With more major touring gigs in the works and an impressive LP in hand, the future for Chapel Hart in 2022 and beyond is bright. -- Blake Ells

Leah Blevins, 'First Time Feeling'

The Kentucky-born artist astounds on her debut LP First Time Feeling. With a voice reminiscent of Dolly, the eye for storytelling of Prine, and the caustic wit of fellow Kentuckian Kelsey Waldon, Leah Blevins masterfully presents herself as a honky tonk angel freshened up for Sunday morning. Don't let the ingenue styling of the album's title dissuade you. First Time Feeling revels on all the mistakes and romantic foibles of one's twenties, with a brutal sense of self-awareness. -- Rachel Cholst

Joy Oladokun, 'in defense of my own happiness (vol. 1)'

Don't sleep on Joy Oladokun, lest you make the same mistake I did. One spin of in defense of my own happiness (vol. 1) and you'll realize you were missing out on something big. Oladokun's songs of abandonment and defiance cut deep, but she softens the blow with restless, inventive arrangements that borrow freely from pop, jazz, hip-hop, R&B, and country. Oladokun's impassioned singing tie the music together, but her rich voice is just as much of an instrument as anything with strings. "i see america" is as piercing a protest song as any. "mighty die young" is a gorgeous statement of purpose – and I look forward to Oladokun's testament to patience and kindness paying off. -- Rachel Cholst

Ashley Monroe, 'Rosegold'

Mountainrose Sparrow / Thirty Tigers

Mountainrose Sparrow / Thirty Tigers

Ashley Monroe sent the sad songs - and her Nashville twang - packing with this year's Rosegold. What arrived in its place was a collection of slow-burning, synth-heavy grooves with lyrics that draw from Lana Del Rey's book of archetypes; like on "Drive" when Monroe sings in pure seduction, "Drive me like your classic / you just have to have it." What Monroe gains with this new sound - a cracked open relationship with pop, hip-hop, and whatever influences are still yet to come - also comes with the reality that not all risks always stuck their landing. Monroe avoids teetering into familiar cliché by instead relishing in her own joy: "But I'm alive, on a different high." -- Natalli Amato

Reckless was released relatively quietly in March 2021, but its release marked a project that had been years in the making. Co-produced by Paul Ebersold and Sadler Vaden of Jason Isbell's band the 400 Unit, Reckless also features some of Vaden's own guitar work and bass from Jimbo Hart. Vaden was responsible for encouraging Wade to pace the release, for which she was grateful. It's a personal album about Wade's own battles with mental health and sobriety.

The record gathered steam with early listeners who immediately recognized the album was a "no skip" collection of songs.After signing a deal with Arista Nashville in August, the irresistible single "Wilder Days" was sent to country radio, allowing Wade to blossom out of the Americana genre label and earn some much-deserved attention from a wider country audience. -- Blake Ells

Anderson East, 'Maybe We Never Die'

Sonically, Anderson East's third album is a recognizable departure for him. Much of his major label debut, Delilah, and the followup, Encore, relied heavily on the Alabama native's soulful voice and included more up-tempo tunes backed by blaring horns and organ. Maybe We Never Die leans heavily on synth sounds and it's a bit more hushed. He brings a Bee-Gees falsetto to the disco-infused "Drugs," while "Hood of My Car" has the cinematic feel of early Twin Shadow. It's an ambitious collection of individual songs that stand alone as unique works, but they're all bound by mortality, as the album title suggests.

On the album's final track, "Interstellar Outer Space," East offers one of his few signature wails of the album in the chorus, proclaiming, "Take me to heaven / I don't want to wait." -- Blake Ells

 

Aaron Lee Tasjan, 'Tasjan! Tasjan! Tasjan!'

Aaron Lee Tasjan

turns inward while continuing to expand his eclectic musical palette on his third album

Tasjan! Tasjan! Tasjan!.

 Blending baroque pop, glam rock, and even at times an Elliott Smith-style reedy rumination, the album finds him adopting a growling, low-seated cowboy voice on "Don't Overthink It" and "Feminine Walk" while climbing to the high notes on "Cartoon Music" and the psychedelic opener "Sunday Women." On "Computer of Love," he even whistles and mimics the sounds of riding a horse.

An expansive release with a keen personal focus, Tasjan! Tasjan! Tasjan! dives deep into technology, anxiety, and self-image, marking among other things first time Tasjan has adressed his queerness on an album. Across the eleven tracks, he treats these themes with a trademark campy sense of humor, particularly in lines like "Up All Night"'s "broke up with my boyfriend/to go out with my girlfriend" and "Dada Bois"'s "my love's a lonely laser beam, sorry if it shoots out your eye." -- Annie Parnell

Connie Smith, 'The Cry of the Heart'

Fans of country music's traditionalism and its iconic pioneers will find a home in Connie Smith's terrific new record, The Cry of the Heart. Co-produced by her husband and fellow prolific country artist Marty Stuart alongside acclaimed musician Harry Stinson, the 11-song set is Smith's 54th LP and the first in a decade. The album is a goldmine of rootsy classic country-leaning gems. It boasts plenty of fiddle and pedal steel guitar, with Smith's signature delivery taking listeners back to the genre's nostalgic yesteryears.

Right from the get-go in the a capella opening of the first track "A Million and One," listeners are treated to Smith's ever-rich vocal tone that, though huskier, has withstood the test of time. The standouts on the album are "I Just Don't Believe Me Anymore" and "Three Sides." The former is a classic country song augmented by the cries of pedal steel and Smith's wistful delivery about her heart's conflicted state. The latter, penned by Smith and Monty Holmes, is an uptempo, subtly-stomping breakup song that offers a brutally somber fact: "there's three sides to every story- your side and mine, and the truth."

With The Cry of the Heart, Smith proves why she has been a beloved mainstay in the genre, and why the late great Roy Acuff dubbed her "the sweetheart of the Grand Ole Opry." -- Jeremy Chua

If you get through one listen of Steve Earle's J.T. without a tear forming in your eye at least once, I doubt you have a human heart. Released just three months after the death of his son, the talented Justin Townes Earle, J.T. acts a as form of musical therapy for Steve Earle. Raw and simple, this collection of covers from Justin Townes Earle's far-too-short-career, including "Harlem River Blues" and "Far Away in Another Town," are incredibly moving and serve as a standing tribute to a life and legacy that deserved a much longer chapter. -- Lorie Liebig

Hayes Carll, 'You Get It All'

Hayes Carll's latest record in many ways serves as a nod to his classic country influences, but doesn't linger too long in the past. You Get It All is fresh and intriguing, mixing with cheeky references to his collection of Guy Clark cassette tapes with heartfelt honesty. His outstanding duet with Brandy Clark, "In the Mean Time" and the record's kick-off "Nice Things," written with Brothers Osborne, reiterate Carll's talents not only as a performer, but an impeccable songwriter. With a sense of humor that echoes back to writers like the late John Prine, Carll offers up one of his best records to date. -- Lorie Liebig

Taylor Swift, 'Red (Taylor's Version)'

Red (Taylor's Version

), the second of six planned re-recordings of

Taylor Swift

's early material, is no mere retread. Rather, the two-hour-plus affair is equal parts treasure trove and victory lap. And while the new tracks admittedly skew more on the pop side, there is also plenty to love for a fan of Swift's country material. There���s "I Bet You Think About Me," a harmonica-driven romp that features backing vocals from

Chris Stapleton

and instantly iconic one-liners ("organic shoes," anyone?), and charming recordings of the hits Swift penned for

Little Big Town

("Better Man") and

Sugarland

("Babe"). But the highlight of the affair is undoubtedly the long-promised, 10-minute version of "All Too Well." It may lean more into pop than the beloved original, but it still devastates like only a country song can.  

-- Will Groff

Charlie Worsham, 'Sugarcane'

At long last, the multi-talented Charlie Worsham has returned with new music in 2021 - and it does not disappoint. Sugarcane is the follow-up to Worsham's 2017 sophomore record Beginning of Things, which was preceded by his acclaimed 2013 EP Rubberband.

The Jay Joyce-produced six-track EP chronicles persistence ("Fist Through This Town"), aspirations ("For the Love"), lifelong commitments ("Believe in Love") and amorous passions ("Sugarcane"), all while fleshing out Worsham's masterful guitar licks and knack for impeccable songwriting.

One thing this EP proves? With a commercial radio hit or not, the prolific Worsham remains one of Music City's most prized gems and frankly, a visionary artist of our lifetime. If his work on Sugarcane and songs cut by Eric Church, Carrie Underwood, Vince Gill, and more indicate his remarkable musicianship, it is safe to say that the future of country music is in very, very good hands. Now, here's to hoping for a full-length LP in 2022! -- Jeremy Chua

Sturgill Simpson, 'The Ballad of Dood and Juanita'

High Top Mountain Records

High Top Mountain Records

Is there anything Sturgill Simpson can't do? He grabbed Nashville by the ear with his cosmic country Metamodern Sounds in Country Music, then dragged the town through a tour de force of genre exploration: orchestral pop, sludgy indie rock, bluegrass, and now, with what he has hinted may be his final album, an homage to classic country music.

Based partly on his grandparents' romance, The Ballad of Dood and Juanita feels as if it sprung fully formed from Simpson's head. The story is told through song seamlessly, with nary a weak point in the album. As invested as I was in Dood's quest, though, the song "Sam," in homage to Dood's four-legged best friend, is the one that put a tear in my beer. -- Rachel Cholst

American Aquarium, 'Slappers, Bangers and Certified Twangers Vol. 1'

When the pandemic began in early 2020, BJ Barham needed something to do with his time. On March 21, not yet knowing how long he would be forced to remain off the road, he began covering a song a day on his Instagram account–beginning by paying tribute to Kenny Rogers, who had passed away the day before, with "Ruby, Don't Take Your Love to Town." By the third day, he had begun to lean on his love of 90s country, diving into the deep end with "John Deere Green" by Joe Diffie. Sometimes he covered friends ("The Bird Hunters" by Turnpike Troubadours on day six), sometimes he covered the completely unexpected ("Lua" by Bright Eyes was on day eight; he covered Death Cab for Cutie and The Killers along the way, too) and sometimes he covered the absurd (he tackled no fewer than two covers from the Netflix series "Tiger King" while it was abuzz). He paid tribute to heroes (John Prine, Bruce Springsteen, Tom Petty, Merle Haggard). He lifted up friends and peers (John Moreland, Susto). And he kept at it for 50 days.

None of us knew what to do with our time. All of us wanted community. All of us needed fun. Barham not only managed to navigate all three, he parlayed it into a new brand.

On March 12, 2021, he announced the creation of his own Losing Side Records, an outlet that allowed a tireless self-promoter and merchandising visionary an opportunity to create and release anything that he wanted, when he wanted. And on May 6, 2021 with no advance warning, American Aquarium released Slappers, Bangers and Certified Twangers Vol. 1.

 

It contained ten 90s country cover songs – five by male artists and five by female artists. Two have seen regular rotation in American Aquarium setlists this year: the "John Deere Green" that kind of started it all and a version of "Some Girls Do" by Sawyer Brown. He also included a version of Toby Keith's "Should've Been a Cowboy," which he tweeted earlier this year was recorded "for folks that still wanted to listen to that song without having to listen to Toby Keith." -- Blake Ells

Tim Kelly, 'Ride Through The Rain'

Many know Tim Kelly as the pedal steel-playing father of breakout singer-songwriter Ruston Kelly, but he has a story and supersized talents that are all his own. After putting his own dreams of success as a musician on hold to support his family, Tim Kelly was finally able to fulfill a lifelong dream with Ride Through The Rain. Produced by his son, the record serves as a collection of moving, powerful story-songs plucked from throughout Kelly's life.

With songwriting that is both relatable and incredibly moving, Ride Through The Rain tackles a myriad of human emotions and struggles, from emotional abuse, the nostalgia of a trip to grandma's house and the hope and worries for what's to come in the years ahead. Featuring appearances from Natalie Hemby, Hillary Lindsey and Lucie Silvas, Tim Kelly served a collection of songwriting that manages to be both sonically timeless and lyrically timely. -- Lorie Liebig

On his 18th album, Rodney Crowell once again shows off the talents and traits that have cemented him as a musical icon. Triage finds Crowell diving into his vulnerability and exploring what it means to be alive and human in the modern world. Although it was mostly finished before the pandemic hit, the record explores topics that many of us have found ourselves leaning into. From the complicated topic of personal faith, the frightening experience of suffering amnesia to pulling yourself out of the darkness, Crowell once again writes with humanity, honesty and an open heart. -- Lorie Liebig

Margo Cilker, 'Pohorylle'

Pohorylle, the debut album from Margo Cilker paints lyrical pictures that are layered, deep and realistic. She's already earning comparisons to Lucinda Williams, and one listen Pohorylle will explain why. From the painful examination of abuse with "Broken Arm in Oregon" to the fragility of life in "Wine in the World," Cilker gives listeners a look through her binoculars, offering up new perspectives into the lives of those that pass us by every day. -- Lorie Liebig

Angela Autumn, 'Frontiers Woman'

One of the most exciting debut records of 2021, Angela Autumn's Frontiers Woman expertly meshes traditional folk, country and bluegrass with a modern edge.

After packing her bags and heading to Nashville from her native Pennsylvania, Autumn forged relationships with some of the city's most talented players, including guitarist Nick Harley (S.G. Goodman) and drummer Kate Haldrup (Lilly Hiatt). The result is an engaging and charming mixture of odes to crumbled relationships ("Old Time Lovers"), dives into waves of depression ("Shooter") and the complications of messy love ("Fine Blue Sky") with grace and wisdom. -- Lorie Liebig

Parker McCollum, 'Gold Chain Cowboy'

With a title like Gold Chain Cowboy and an accompanying polished city boy swagger on the album cover, it's easy for old-school country fans to write Parker McCollum off as another dashing lad trying to achieve mainstream success. But if one thing holds true here, it's the adage "never judge a book by its cover." McCollum's major label debut record (and his career third) makes a strong entry into commercial country music.

Riding on the success of his No. 1 hit single "Pretty Heart," the Texas native's 10-track collection comprises similar country-rock tunes and impeccably potent storytelling. Teaming up with hit songwriters such as Rhett Akins, Jon Randall, Randy Montana and fellow country star Miranda Lambert, McCollum offers mostly- pensive country songs with sturdy hit-ready hooks – a style that's grown synonymous with his artistry. "Dallas" laments a breakup conundrum, the rollicking "Falling Apart" finds McCollum rueing the romantic devastation his inadequacies have cost him, and "Why Indiana" ponders over the what-ifs of lost love.

A notable highlight on the LP is "Drinkin'." Melding anthemic drum rhythms, vibrant guitar licks and the lonesome sound of the pedal steel guitar, McCollum bemoans his dire state of loneliness as he pines for the return of an ex. Of course, one would be remiss to not mention the stellar "Rest of My Life," where the 29-year-old vulnerably reflects on his life's haunting regrets over a stripped-down, harmonica and keys-driven melody. Gold Chain Cowboy showcases top-notched musicianship by a fast-rising artist who blends country's tradition with evolution – without any synth-pop beats or snap tracks. Simply put, it's contemporary country fare done darn well. -- Jeremy Chua

Jason Isbell and the 400 Unit, 'Georgia Blue'

During the 2020 election cycle, Jason Isbell tweeted that "If Biden wins Georgia, I'm gonna make a charity covers album of my favorite Georgia songs."

And Isbell has never been averse to covering songs, so he meant it. Before joining Drive-By Truckers 20 years ago, he spent plenty of time honing his craft with Tom Petty and the Heartbreakers' songs at bars across the southeast. After Petty died in 2017, he closed each night of his now annual Ryman run with a different Petty cover.

In October 2021, he made good on the tweeted promise, and he was flanked by an all-star cast of musicians: Brandi Carlile, Peter Levin, Chris Thile, Bela Fleck, Brittney Spencer, John Paul White, Adia Victoria, Steve Gorman and Julien Baker among them. The collection features a few straight-forward versions, like R.E.M.'s "Driver 8" and Drivin' 'N Cryin's "Honeysuckle Blue," for which he turned over lead vocal duties to his guitarist and former Drivin' 'N Cryin' band member Sadler Vaden. But it also features incredible new interpretations of classic songs, like his version of R.E.M.'s "Nightswimming" with Fleck and Thile replacing the original piano accompaniment with strings. His version of "In Memory of Elizabeth Reed" featuring Peter Levin allows the band to dig into their Southern, blues-rock roots and on his version of The Black Crowes' "Sometimes Salvation," he manages to stretch his vocal range to the wails of Chris Robinson.

Some of the album's most unique moments come from Brittney Spencer, who opened a string of dates for the band in 2021. Her versions of James Brown's "It's a Man's, Man's, Man's World" and Gladys Knight and the Pips' "Midnight Train to Georgia" are among things that fans wouldn't expect to hear from the band. And it works beautifully.

All proceeds from the record benefited Black Voters Matter, Fair Fight and Georgia STAND-UP. They also benefited local independent record shops, as the only way to purchase the vinyl was on Record Store Day Black Friday. It was the third highest-grossing vinyl release the following week. -- Blake Ells

Lainey Wilson, 'Sayin' What I'm Thinkin''

Lainey Wilson makes one of the strongest entrances as a newcomer with her BBR Music Group debut album, Sayin' What I'm Thinkin'. Leaning on her distinctive "Bell Bottom Country," or "country with a flare" artistic style as a throughline, the Louisianan blends fresh with familiar to paint a musical portrait of who she is. Grounded in an unapologetically twangy and rootsy sound, the 12-song set celebrates her vivacious personality ("Neon Diamonds"), small-town living ("LA"), and independence ("Pipe"), with a little rollicking homage paid to the iconic Dolly Parton on "WWDD."

But this record isn't all feel-good uptempo jams. Wilson isn't afraid of wearing her heart on her sleeve as she reflects on breakups ("Things a Man Oughta Know"), the universal human experience ("Keeping Bars in Business"), and who she really is in the title track - her most vulnerable performance on the LP. With Sayin' What I'm Thinkin', Wilson has done an excellent job at conveying her unique artistry, commercial staying power, and all that she's ready to bring to the big ol' table of country music for the long haul. -- Jeremy Chua

Willie Nelson, 'The Willie Nelson Family'

Almost everything Willie Nelson touches turns to gold, but it shines even brighter when it's a family affair. The Willie Nelson Family is a joyful gathering of Nelson, his sons Lukas and Micah, his daughters Paula and Amy, and his sister, Bobbie Nelson. Along with an impressive list of originals, they put their own mark on Hank Williams' "I Saw the Light," George Harrison's "All Things Must Pass" and Kris Kristofferson's "Why Me." It's another bright chapter in a life and career filled with musical greatness, an achievement that comes impressively in his 88th year of life. -- Lorie Liebig

Natalie Hemby, 'Pins and Needles'

When it comes to songwriting, it doesn't get much better than Natalie Hemby. Hemby's co-written songs for Toby Keith and Miranda Lambert, and she's one of the four Highwomen. On her latest solo album, Pins and Needles, is a delicious re-examination of 90s country and early aughts indie rock. Consider the pulsing guitars of "New Madrid" and angular hooks of "Banshee," and then guffaw at the perfect country storytelling of "Hardest Part of Business." Hemby's wry sense of humor can only be suppressed for so long, after all, and her ability to structure an entire song around a saucy turn of phrase will take your breath away in between chortles. -- Rachel Cholst

One of the most powerful records of 2021, Lilli Lewis' Americana offers up 13 tracks of raw, unfiltered talent. Much like many of the songs often referred to as classics from the genre, standout track "Copper John" has all the qualities of a traditional country music story-song at its finest. Aside from Lewis' jaw-dropping vocal stylings, each song on Americana offers sharp lyricism, irresistible hooks and a needed perspective that's often overlooked in the genre as a whole. Co-produced with Mark Bingham and including appearances from an array of talented players and artists, including Seattle's Lady A (not to be confused with the band formally known as Lady Antebellum who began using the name Lady A in 2020 without permission), Americana weaves a narrative that tackles subjects like racism, classism and personal accountability through the lens of a true artist. -- Lorie Liebig

Jackson+Sellers, 'Breaking Point'

On their own, Jade Jackson and Aubrie Sellers both create intriguing, innovative music that stretches genre lines. On their collaborative album Jackson+Sellers, the duo bring a grittiness and cool factor that few others can achieve.

Birthed out of an East Nashville recording studio, Breaking Point supplies a trove of jaw-dropping harmonies and impassioned anthems. Although their subject matter can often skim along the top of dark waters, Jackson and Sellers do it with style and ease. Their take on Julie Miller's "Devil Is An Angel" is clever and full of life, sitting gracefully alongside tracks like the dreamy "Fair Weather" and defiant "Waste Your Time." This is a collaboration that meshes more than just two stellar voices; it's a perfect melding of two fiercely creative minds. -- Lorie Liebig

Todd Snider, 'First Agnostic Church of Hope and Wonder'

First Agnostic Church of Hope and Wonder

 was the 14th solo studio release from East Nashville transplant

Todd Snider

. As a complete work, it's a collection of funk-folk vignettes about existentialism in the 2020s, reaching its climax during the repeated, spoken word refrain of the penultimate "Agnostic Preacher's Lament."

"That's the thing that everyone agrees on/Succeed at everything they try/Live forever and never die."

In the center of that collection is "Handsome John," an ode to the recently departed John Prine. The tune is a bit of an outlier on the album, but it's the most personal, and it's Snider's best storytelling paying tribute to one of the genre's best storytellers of all time.

Between 2000-2004, Snider released three studio albums and a live album on Prine's Oh Boy Records, including his landmark East Nashville Skyline. But he didn't know "Handsome John" very well, or so he professes in the opening lines.

"I didn't know him as well as I tell everyone I did / Hell he was nearly 50 and I was only a kid / But even way back in those missing years / When he was still just catching on / There was nobody better than Handsome John."

It's been 27 years since the debut Songs for the Daily Planet, and Todd Snider has never compromised. Still, First Agnostic Church of Hope and Wonder may be the most fully realized version of Snider's artistic vision. Many times, he's proven that he is one of the sharpest and wittiest living songwriters. Other times, he has created a unique funk sound befitting the Margaritaville imprint of MCA that he first signed to so many years ago. Here he found a way to combine all of it, even harkening to his most mainstream hit "Beer Run" on the track "Stoner Yodel Number One:"

"All you need is a ten and a fiver? / A car and a key and a sober driver? / Now you're preaching to the s***house choir." -- Blake Ells

Since their breakout in 2012, Lord Huron has meshed imagery from the American frontier with infectious rhythms and guitarist and lead singer Ben Schneider's rich vocals. Although most firmly place them in the category of indie rock, the band's sound is one that can easily translate for many Americana fans.

Lord Huron's latest album, Long Lost, serves up a treasure trove of stunning tracks. "Love Me Like You Used To" is rooted in classic country songwriting that traditionalists long for, elevated by modern, layered production. "I Lied," the band's stunning collaboration with Allison Ponthier is sure to stop you in your tracks. It's a musical departure for many country fans that's more than worth the trip. -- Lorie Liebig

Dori Freeman, 'Ten Thousand Roses'

With the striking Ten Thousand Roses, Dori Freeman provides a songbook that examines an array of human experiences and qualities, from rocky relationships, femininity, its false stereotypes and preconceived notions. The record builds a well-rounded sound filled with expertly arranged, swaying accompaniment that compliments her soulful vocals. Plucky banjo and mandolin doesn't overpower Freeman's engaging vocal performance as she lays out her own truth without apologies. The anthemic "I Am" feels like a late night chat with your best friend, both comforting and uplifting, reminding us all we are much more than the labels others put upon us. -- Lorie Liebig

Wanda Jackson has led a full life. She's written and recorded hundreds of songs, played some blazing guitar solos, toured internationally, and been inducted into the Rock and Roll Hall of Fame. Her awesome musicianship, high-energy live shows, and glamour-girl style have inspired many women in music, from Poison Ivy Rorschach of the Cramps and Cyndi Lauper to Adele and Miranda Lambert. After a career that has spanned seven decades, Jackson says goodbye to her fans with the back-to-basics rockabilly of Encore. 

Everything you love about Wanda Jackson is present on Encore. "Big Baby," the fiery opening track, catches the singer as she calls out an immature boyfriend. She sings in a confident voice, and a mid-song guitar solo proves that she still knows her way around a fretboard. Fans of Jackson's upbeat, let's-have-a-party mood will enjoy the up-tempo songs, but the singer also reveals a more vulnerable side on a string of ballads. The 2017 death of Jackson's husband, Wendell, was one of the catalysts for her retirement, and she looks back at their time together on heartbreaking torch songs like "That's What Love Is." Jackson's voice is lower and craggier than on her earlier records, which plays into the album's theme of looking back and taking stock. The occasional cracks in her voice sound like the imperfections of a wise elder who's seen it all… but isn't above having a little fun. 

As producers, longtime fans Joan Jett and Kenny Laguna keep the focus on Jackson's vocals, songwriting, and guitar playing. The small band arrangements and occasional girl group-style backup vocals (from country stars like Elle King and Angaleena Presley) call back to Jackson's earlier work without sounding like a retread. 

Longtime fans of Wanda Jackson will be happy with the rocking, yet bittersweet final album. New listeners and fans of underrated women in rock will also find much to like on Encore. -- Chelsea Kearin