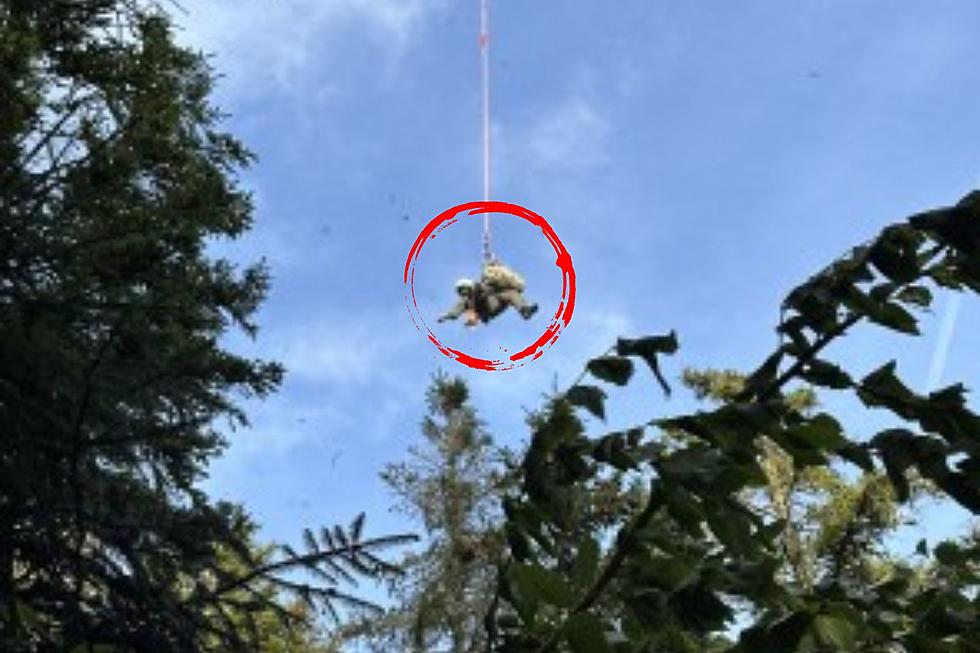 Watch: Maine Teen's 60-Foot Fall From Mountain Prompts Dramatic Rescue
MAINE DEPARTMENT OF INLAND FISHERIES & WILDLIFE
A Sunday afternoon hike up a Maine mountain turned into quite the ordeal for two friends last weekend.
According to Mark Latti, communications director with the Maine Department of Inland Fisheries & Wildlife, 15-year-old Kyle Lund and a friend were hiking up a steep section of Tumbledown Mountain just before 2 p.m. Apparently, Lund lost his footing, and fell about 60 feet down the mountain, in the area of Loop Trail, and broke his leg. That's when wardens were called in to help.
"Game wardens, along with volunteers from Franklin Search and Rescue, Mahoosuc Mountain Rescue, and members of the Weld, Wilton, and Carthage fire departments, hiked up over a mile to where Lund had fallen, and due to the severity of the fracture, made the decision to fly Lund out by a Maine Forest Service helicopter."
Latti said additional rescue personnel were dropped off at Lund's location via helicopter. They then had to secure the boy to a backboard and hike up another part of the mountain before they could find a clearing big enough for the Warden's helicopter to land safely to collect him for transport.
"The Maine Forest Service then flew the boy approximately two miles, landed, and transferred him into a waiting NorthStar Ambulance, which first took him to Franklin Memorial Hospital, and then later transported to Maine Medical Center where he was treated."
In total, it took the rescue crew almost 3 hours to locate, secure, and transport Lund to the hospital.
Where in Maine Would You Hide If You Were On the Run?
Maine's just one big hidey-hole.
You Know You're From Maine When...
From the mouths of Mainers, to you...
Here Are 17 Things In Maine That Will Bite You
Here in Maine, there are plenty of critters that can take a bite out of you if they do desire.